To see the video of the delightful interview I did last night, with Bobbie Jean Bell and Jim Bell on their show, Rendezvous with a Writer, go to:
https://www.facebook.com/WritersOutWest and it's available on the page!
Or, you can access from my website by clicking on the image here:
https://www.clairefullerton.com/latest-news
Bobbie Jean Bell is an avid reader and stalwart champion of authors. In a conversational forum, she asks questions of her guests that delve down to the very essence of the writing process, and it was my great pleasure to be the guest of Bobbie and Jim Bell on their show, Rendezvous with a writer, which was simulcast on LA Talk Radio. I had a great time answer questions such as what constitutes a Southern Writer, which point of view I prefer to write in, and why, then reading two excerpts from my latest novel, Little Tea, which concerns life long female friendships, Southern culture, and healing the past, in the Deep South.
A little about the show, RENDEZVOUS WITH A WRITER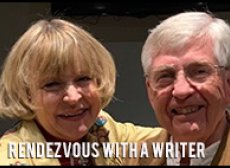 Hosts OutWest Shop's Bobbi Jean Bell and Jim Bell chat LIVE with creators of the Written Word. Unscripted. Entertaining. Informative. Tune in to enjoy live conversation with our guest about their latest project and the creative process. The guest may be an author, poet, songwriter, screenwriter or blogger. Those that support the wordsmith are included too like literary agents, publicists, publishers, editors and more!
My gratitude to Bobbie Jean and Jim Bell for being so wonderful!